Blue Rock puts Berks Park 78 "on the map"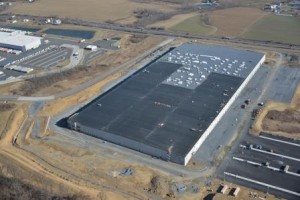 Berks Park 78 will add 1,000+ jobs to Berks County, Pa., with the help of Blue Rock Construction's design-build expertise.
The park is a 323-acre, fully approved and entitled project, located with high visibility just off Interstate 78 Exit 13 in Bethel, Pa. The property was assembled by the Berks County Industrial Development Authority (BCIDA).
Blue Rock Construction, Inc. was awarded the contract to provide design-build construction management services for the design and development of the park.
Blue Rock managed the design and construction of all elements for Berks Park 78 and increased the park's buildable square footage by creating functional designs attractive to end users.
"Without Blue Rock, Berks Park 78 would not have achieved the success that it has," said Thomas C. McKeon, executive director for Berks County Industrial Development Authority. "They provided more than just excellent construction management services. Their trusted advice and expertise has guided our decisions, made our site more attractive to users, reduced costs, accelerated permitting, expanded our relationships and added to our credibility in the development community."
Working Together
"We hired Blue Rock approximately 2 1/2 years ago," said McKeon. "They have provided excellent construction management services such as document review, scheduling, drawing revisions, estimating, construction monitoring and public bid processes"
Notable Blue Rock contributions cited by McKeon include:
Increased the square footage yield of the park by helping redesign our plans.
Made suggestions that reduced future site costs and helped accelerate permitting.
Provided accurate cost estimates for infrastructure improvements that greatly helped financing.
Advocated for starting the infrastructure that was a difference maker in marketing the site.
Provided credibility to the BCIDA vision and built confidence in our prospects.
Predicted building layouts that turned out to closely match our future prospects' requirements.
Successfully managed our civil and environmental engineering services.
Assisted in the receipt of $3 million in grant funds from the Pennsylvania Redevelopment Assistance Capital Program.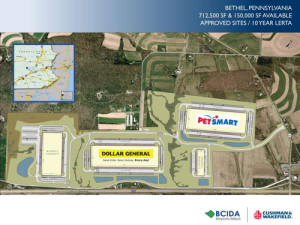 Success!
Through the strong partnerships of BCIDA, Blue Rock Construction and Cushman & Wakefield, both PetSmart and Dollar General secured lots in Berks Park 78.
"We could not have asked for stronger or more prominent companies to anchor our park," said McKeon.
"The Dollar General and PetSmart commitments have proven that we are one of the best logistics locations in the Mid-Atlantic states. These sales have put our property on the map."
Two additional land parcels, which can accommodate 750,000 and 180,000 square feet, remain available at Berks Park 78 for build-to-suit sale/lease, individual sale or as a package. With potential buyers lining up, we are confident that future tenants will be taking advantage of the amenities of Berks Park 78.