SADV to honor Blue Rock's Cameron Barr
Cameron Barr, Senior Project Manager for Blue Rock Construction, will be honored by the Subcontractors Association of Delaware Valley at their upcoming Professional Showcase for his outstanding work.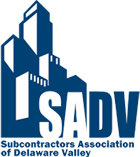 Cameron will be honored February 18 at the Springfield Country Club (Springfield, PA) during SADV's awards dinner that recognizes outstanding peers in the construction industry.
As senior project manager with over 17 years of experience with Blue Rock, Cameron provides various services from pre-construction work, estimating and budgeting, to managing the projects.  Cameron has completed projects ranging from $60,000 to $94 million and is experienced in large commercial construction, historical renovations and fast-track construction.
For Urban Outfitters, Inc., Cameron was responsible for the historical renovations of the eight buildings that make up their main campus at the Philadelphia Navy Yard. Urban Outfitters and Blue Rock Construction were awarded the National Preservation Honor Award for the work.
Other clients benefiting from Cameron's expertise include: Anthropologie; Terrain; Free People; Amazon; SEI Investments; Lockheed Martin; Cisco Systems; Trammel Crow Company, and Mercer Bucks Cardiology.
For more information, visit www.sadv.org.